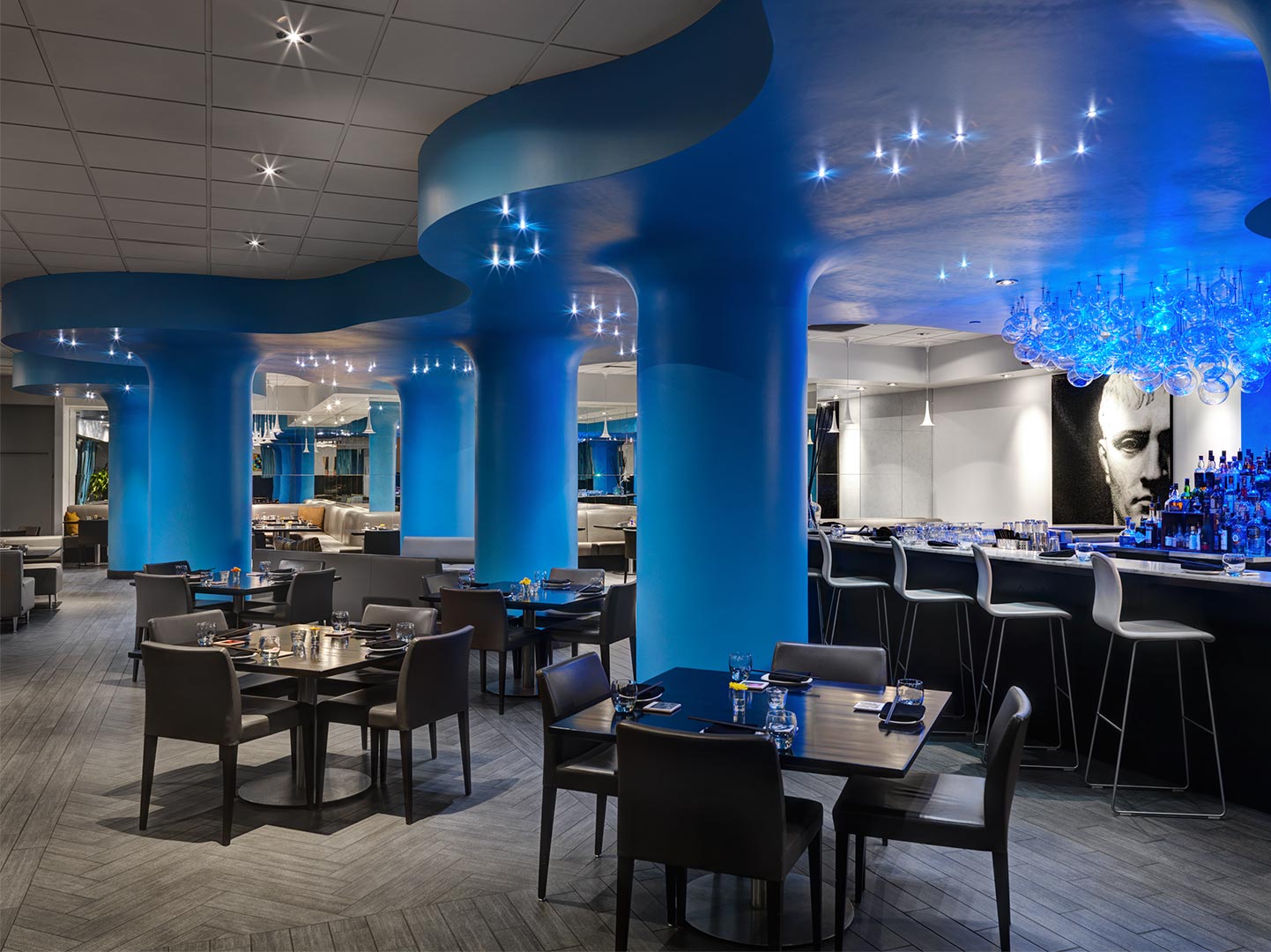 I recently had the pleasure of traveling to Calgary to give a speech for Dealer Talk (presented by Kijiji.ca.) – an amazing event for individuals who work at all of the auto dealers in Alberta, Canada.
During my visit, I stayed at the beautiful Hotel Arts, a boutique hotel that infuses its setting with works of art in a variety of different mediums. The lobby features a gigantic two-sided, see-through fireplace as well as provocative art on every wall. The onsite restaurant "raw bar" is like a dream world, with futuristic electric blue pillars and lights encased in glass bubbles hanging over the bar.
For an art admirer and collector like me, the atmosphere alone was a surprising and delightful change from the usual stuffy prints of ducks and other random waterfowl found in most hotels.
To my surprise, the artistry didn't stop with the pieces hanging on the wall.
The hotel staff managed to make my stay even more inviting and special.
After receiving my key card (a piece of art in its own right), I went upstairs and entered my room.
On the bed, I found a handwritten, personalized letter from the staff manager. He wrote to tell me that if I needed anything, not to hesitate to reach out to him. He included his business card and contact information should I have any requests.
I settled in to work on some last minute tweaks to my presentation scheduled for the following day and very quickly lost track of time.
Sometime later that afternoon, around 4:30pm, I heard a knock on my door.
When I opened it, a smiling staff member stood there with a plate of chocolates to welcome me to the establishment.
That's nice, I thought…
When I looked closely at the plate, I noticed they had written "Welcome Joey" in chocolate.
This brought a smile to my face.
It made me feel at home.
And they used my preferred name "Joey" even though that wasn't the name on the reservation (no, I don't stay at hotels under a pseudonym – I'm not that famous. But I do use my legal name which isn't Joey).
As I'm often prone to do, I couldn't pass up the opportunity to explore how this magical moment came to be. Curious, I asked the staff member what would have happened if I hadn't been there to answer the door.
He told me that after knocking and hearing no reply, he would slowly open the door and confirm that the room is empty. If it is, he would slip into the room and leave the chocolates on the table where they will be waiting for me upon my return.
The Hotel Arts doesn't pass up the opportunity to create an amazing experience just because the guest isn't in her/his room!
The staff members of this hotel took the time to create unexpected moments of delight and added a personal touch at the same time. The letter and the chocolates are each – on their own – thoughtful touches. When combined together, they create an experience that makes guests feel welcomed and cared for at the same time.
In case you were wondering (I checked) they do this for every guest – not just the professional speakers.
The only thing they could have done to impress me more was to have root beer on ice, waiting for me in my room. Maybe next time. 😉