Start Reading Today (for FREE!)
---
For almost 20 years I've helped companies keep their customers. Now I want to help you do the same.
Filled with forty-six case studies ranging from solopreneurs to global juggernauts, I'll show you specific tools and strategies you can apply to your business to create remarkable customer experiences and keep your customers coming back for more.
Get a preview of how to turn one-time customers into lifelong fans! (and we don't even ask you for your email)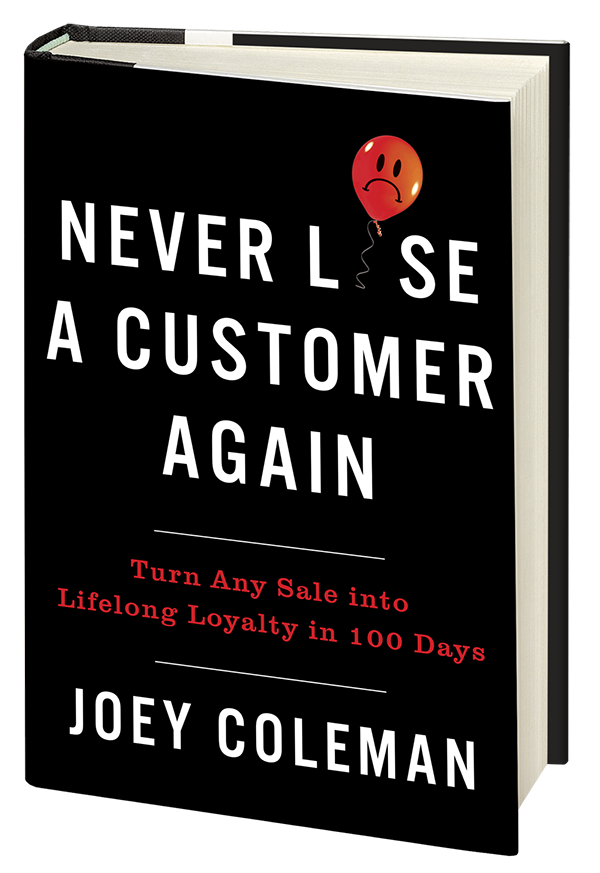 Get the Book Now
---
You can pick up a single copy for yourself using the icon of your preferred retailer below.
If you want multiple copies for your team or even multiple copies to gift to your best clients, you can get the best pricing here.
(note: requires a minimum order of 25 books but shipping is free!)
Finally, if you want to get really personalized, fill out this form and Joey will be in touch about some unique customizing options.
This book is simply outstanding. I first heard Joey on The Learning Leader podcast. We then read the book as a management team and have rolled the book out to all 70 of our teammates internally. It is now part of our welcome packet for new employees given how practical and relevant the tips are.
I know that the information I've learned from this book is going to help my business as soon as I apply it. And I'm excited to get started on several of the new strategies! Thank you, Joey.
Thank you for an incredible insight into keeping my clients for a long time. highly recommend this book for all business owners.
For any business person or person who likes to have meaningful connection with others, this book is pheeeeenomenal. I'm so excited to plug these ideas into my business! 10/10.
Hayley Parker
Amazon Review
I've read this book a few times. As a leader of a Customer Success team, this has been invaluable. So much so, that this is mandatory reading for all on my team. We've used the insights provided in the book to help shape and guide our internal practices. And it's making a real difference.
Amazing book. Changed my outlook on gifts…..great for any business! Also great suggestions on books to read when you are done.
Sabrina Kelsey
Audible Review
I was first introduced to Joey's work through Jayson Gainards' podcast. I thought. "Wow, this guy really knows his stuff", branding is a weakness of mine so I reached out to see if he had his ideas published to learn more. I hope Joey doesn't mind posting his response, as it relates to the story. Most people ignore cold emails or only respond if the inbound to make a sale. I didn't feel neglected. That is what this book is about. You lose customers because they feel neglected in some way. Obviously, I bought the Audiobook and became a customer, but this book is genius relatable to small business owners, service providers, Entrepreneurs, tech startups, and even 'growth hackers' like myself who often look at quantitative data to make decisions, instead of the 'mid-funnel/hot" customers who have already been acquired. Joey will teach you a systematic process to create a customer experience within 100 days, and he breaks down these into 8 phases models. Mind you- I have a degree … I have started numerous business … I have certifications.I've learned more from this book about the customer experience then 15+ years of combined. So if you're skimming through the reviews, still thinking of a kick ass book to read, give this one a shot, you won't regret it!
Hunter Hard
Amazon, Kindle
I was reading this book with a group at work that would meet weekly to discuss a chapter. Joey outlines his theories and processes in an easily digestible way, and provides real life concrete examples. He also went above and beyond and actually had a life video conference with our group!!
Joey Coleman has a passion for keeping customers happy, and you can really feel it in this book. He goes over many tactics with examples and case studies on how to keep customers happy and keep them ordering your products or staying on your subscriptions. Highly recommend this book.
Lots of great info and put together very well. Hope to utilize it all soon! Thank you!