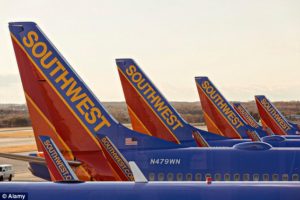 Given the ever-present media coverage of airline-related customer experience nightmares, I wanted to share one of my favorite stories of an airline going above and beyond.
Two years ago, Southwest Airlines took actions that serve as a case study for how to properly handle a passenger crisis. Airline personnel went out of their way to make a terrible situation better, as best they could.
The plane was about to take off when the flight was aborted and the jet taxied back to the gate. Peggy Uhle was removed from the flight and in a rare instance, was thankful to be escorted off the plane.
As it turns out, her son had suffered a serious head injury and was in a coma. Southwest Airlines could have simply told her the news on the plane and asked her to deplane. Instead, they escorted her off the plane, let her receive the news from her husband, and then told her they had already made all of the travel arrangements necessary – for free – so she could travel to her son and be by his side. To learn just how much they did for her, check out this article detailing the entire situation.
Years later, this story lives on and proves the point that treating customers the way we hope our mother would be treated creates happy clients, avid advocates, for customers for life.
Instead of simply meeting their passengers' needs (or its own needs), Southwest instead focused on going above and beyond the expected level of service. In the process, the company provided a heart-warming, emotionally poignant experience.
Southwest Airlines recognized that their passenger's family was in crisis. Instead of leaving her to her own devices, Southwest did everything possible to make it easier on their passenger – a mother who wanted nothing more than to travel to her son and be by his side. From booking new flights, to providing a private space to wait, to packing a lunch, the team at Southwest anticipated their customers' needs and desires, and then went beyond them.
To implement an "above and beyond" philosophy in your organization, first think about ways you can go exceed your customers' expectations and at the same time have a ton of fun. If it doesn't achieve both goals (exceeding expectations and fun), keep brainstorming. Once you have an idea(s), allocate the necessary budget without worrying about the ROI. Then try it, paying attention to not only your customers' reactions, but to the impact this experience has on your employees. Let me know how it goes and who knows, maybe next time we'll be featuring your story as an example of going above and beyond!