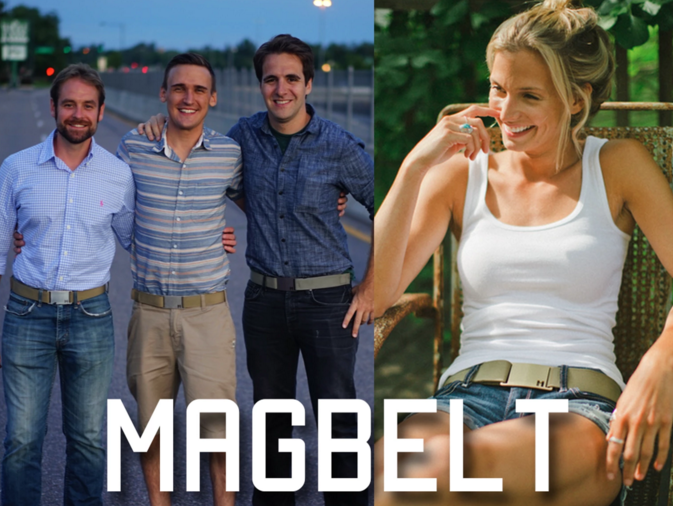 Last summer, I stumbled across a cool Kickstarter project called MagBelt. They bill themselves as "a magnetic belt that fits perfectly to your waist," and I was intrigued. I liked the color and I loved that it didn't need holes – it just expands and contracts as needed.
Now, I should note that I have a long history of supporting Kickstarter projects. To date, I've funded 56 projects. Out of those, I've had two total fails and two more that look like they're about to fold. When I saw this project, I was persuaded by the sleek design and the story of the company, which also happened to be based in Denver.
MagBelt launched their Kickstarter campaign in June, and I ordered my belts in July. I filled out the sizing form in August… and then I didn't receive the belts until the end of January.
You may recognize that in that time, two seminal events took place: Thanksgiving and Christmas. Traditionally, I let myself "relax" during this time. Needless to say, the belts I ordered no longer fit.
I reached out to the company and asked for a return form. I was a bit surprised and not delighted when I noticed that it was a PDF and not an electronic link that I needed to fill out. It dawned on me that this is a startup, and I should cut them some slack. In any event, I was not excited about filling out a paper form, until I started reading it.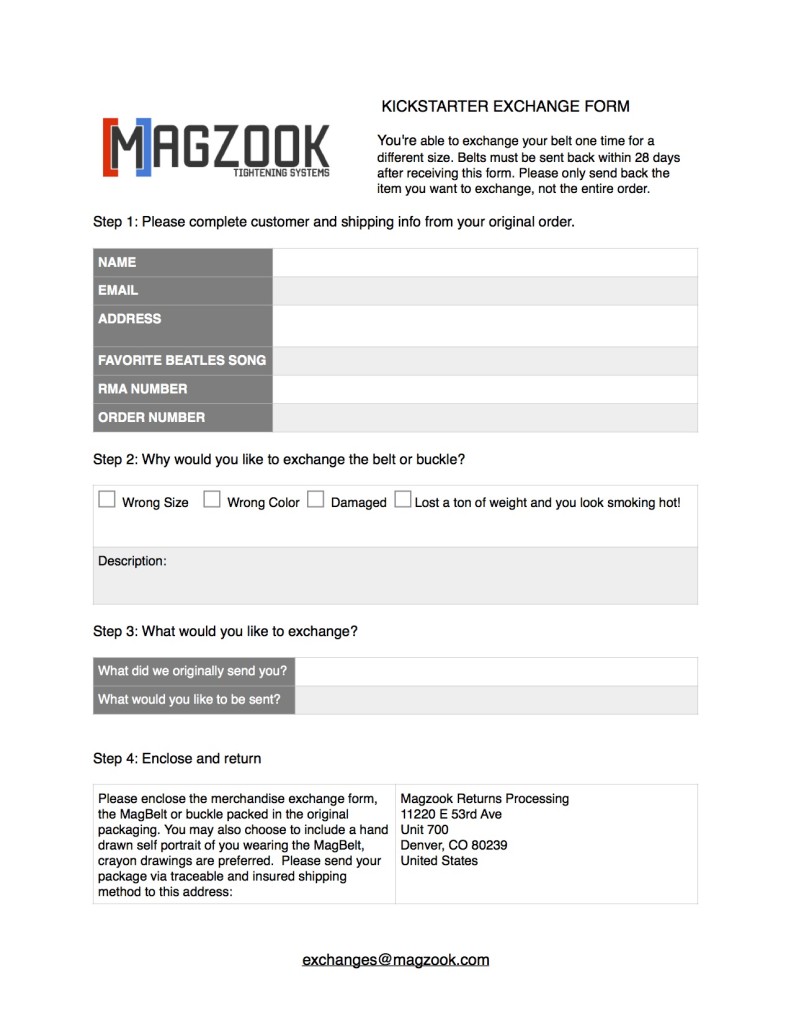 Take a look at the return form above. First, they ask for the obvious things: the name, email address, phone number, everything you would expect a company to need to process an order. But then they throw you for a delightful loop by asking for your favorite Beatles song.
Next, they ask for the RMA and order numbers, which could be a pain to locate. But to my surprise, the person who had responded to my email had already provided me with the number order in the email along with the form.
Moving down the form, they then ask for the sizing options. They shout out the smaller size but otherwise say "wrong size" if you need a larger one. Smooth. Wouldn't want to cause any cognitive dissonance for the guys like me who like to "relax" over the holidays.
They also ask "What would you like to exchange?" What's great about this? Instead of exchanging, I might prefer a full refund. Or I might choose to request belt buckles instead of the full belt.
Rather than assume what I wanted, they asked me what I wanted to receive. As business owners, when we ask a customer what they would like us to do, they'll often surprise us by asking for less than we might have given them if it had been left up to us.
Finally, you'll notice the box at the bottom includes instructions for packing the belt and mailing it. They write, "You may also choose to include a hand-drawn self-portrait of you wearing the MagBelt, crayon drawings are preferred."
Of course, I couldn't resist.
MagBelt made something required – and often unpleasant – remarkable. No one enjoys returning the items they had shipped to them; it's time-consuming, and there's a little bit of disappointment associated with the activity. By making it fun and engaging they eliminated some of the hassle and pain of returning my items. As I've written about here and here, it doesn't take much effort to make the required remarkable, but it does create a lasting impact on your customers.